Terminology extraction is one of the most important activities of terminologists. What is worth including in a terminology database depends very much on the planned use of the terminology. What is relevant for a translator is not necessarily of interest to a technical writer or an export department employee.
Terminology extraction is an ongoing task. Many existing terminology resources are incomplete. Authors or translators believe they are safe because they check their texts for the correct use of terminology. But if important terms or information are missing, errors can still be overlooked. It is therefore important to continuously check texts for new terms.
We have more than 20 years of experience with terminology projects. In addition, terminology work is an integral part of project management. Since we check all translations according to the dual-control principle, we place particular emphasis on the correct and consistent translation of special domain terminology. For each new project, we check whether new terms occur and record them for quality assurance purposes.
We help you define the criteria for the extraction of new terms. If the terminology is to be extracted and developed for several user groups, we help you define a data model that supports the different usage situations of your terminology.
Semi-automatic extraction process
Fully automated procedures for terminology extraction are unreliable and often cause extra work. Over the years, we have developed semi-automated interactive extraction methods that accelerate the extraction of new terms. Term candidates are automatically determined and then checked in context. We have programmed our own scripts and use artificial intelligence processes to recognize important words or word combinations as well as conceptual connections. Finally, a terminologist checks the documentation to see if important terms have been overlooked.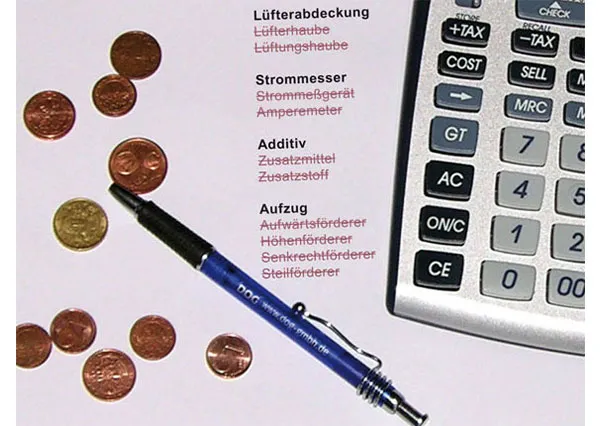 We offer the following services for extracting and compiling your terminology:
Checking your documents for new terms
Recording terms in several languages in our terminology management system LookUp with access for you.
Recording meta information such as terminology source, usage status, context example
Evaluating and cleaning existing terminology
Any questions about our products or services?
Please contact us at any time:
Phone: +49 (0) 7152 35411-0
E-Mail: info@dog-gmbh.de
Form:  request a quote / send a message