Developing your company terminology
A growing number of companies sees terminology as an indispensable tool for corporate success. Terminology supports internal and external communication, important processes such as digitalization, sales and marketing, technical editing and information management.
We help you to build up your terminology at a reasonable cost and within an acceptable time frame. For 20 years, D.O.G. has been creating and managing terminology for companies from various industries and has gained extensive experience in the process.
Terminology is not set in stone. It is constantly evolving. Definitions need to be adapted. New translations are added. Concepts need to be separated or merged. Errors may have crept in. The use of terms may change, etc. Here too, you can rely on the experience and methods of D.O.G.
D.O.G GmbH offers you a wide range of customized terminology solutions that are tailored to your individual requirements. Our relational terminology management system LookUp is the preferred tool for this purpose
Username: demo
Password: demo
To communicate knowledge and know-how, we never use concepts and terms alone. We use them in context. In LookUp, individually configurable relations connect related concepts and terms. In this way, we can explain and understand which functions a valve has, what the cause of a machine failure is, or which products are to be sold together.

LookUp has a unique knowledge module that you can use to model typical knowledge contexts ("controller – controls – power storage"). You can then use this knowledge in many situations: determining the causes of errors, creating technical documentation, optimizing sales, checking the context of a translation, etc.
We use linguistic tools and AI processes to determine relations between concepts and to help you build up your knowledge management.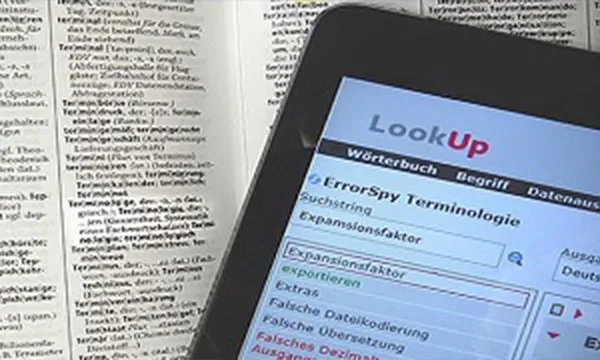 Advice on the development and implementation of your company terminology
Extraction and recording of your company terminology in all commercial languages
Synonym search and recording
Terminology maintenance
Use of the terminology platform LookUp
Revision of terminology in your documentation or translation databases
In-house workshops and training courses
Quality control and evaluation of existing terminology resources
Conversion of terminology repositories
Creation of a terminology guide
You can start at short notice and have a basic terminology for your products and services in a few weeks
Our wealth of experience saves you time and money
You standardize your texts, thereby cutting your translation costs
You increase the quality of your documentation
Costs arise only when required (no fixed costs)
Any questions about our products or services?
Please contact us at any time:
Phone: +49 (0) 7152 35411-0
E-Mail: info@dog-gmbh.de
Form:  request a quote / send a message